S. Martin Shelton is an accomplished still photographer. After retirement he actively pursued his long-term interest in photographing the old west. During the next 15 years he made 43 trips into Nevada (from his home base in Ridgecrest, California) to document with color and black and white photography the state's ghost-towns, mining camps, and abandoned ranches.
In all he visited and photographed about 1,400 sites. Such documentation and attendant cataloguing is the most comprehensive record ever made of the state's many sties—including many not recorded in history. In October 2003, having accomplished his goal of building this comprehensive record, he donated his collection of some 10,000 photographs to the State of Nevada.

For his efforts in documenting Nevada's historic past, The Nevada State Historic Preservation Office presented Marty an Award of Recognition. Nevada's Governor, Kenny Guinn, presented a letter of thanks, and Nevada's Senator John Ensign sent a Senatorial Recognition document.

The photographs offered in this web site are from his exhibition of fifty three of his photographs in the Nevada State Library, Carson City during the summer of 2004.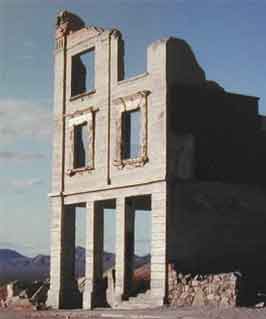 Rhyolite
Bullfrog Hills